Are You Ready To Finally Shift Your Life from Fear to Love?
From Lack to Abundance? From Chaos to Peace?

Special FREE Transformational Gifts from the S.O.U.L. Institute just for you!

Welcome! I'm so glad you've chosen to receive my free gifts for you! It is certainly no accident, because your time is now.

If you're ready to discover four powerful steps to instantly transform your life, just enter your name and email in the form below and you'll get immediate access to my special downloadable PDF, "Four Steps To Transformation." It's a simple one-page document that was given to me by the Spirit realm to transform my life instantly. These steps work magically when you use them consistently.
BONUS GIFT!
The Next Convergence of Consciousness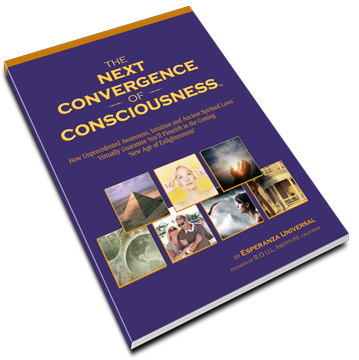 PLUS, as an additional bonus gift, I'd like to give you instant access to one of my most comprehensive reports on the unprecedented planetary shifts that are happening now. This report shows you how you can harness the power of your higher consciousness to manifest all that you truly desire in this lifetime. This is a beautiful, 17-page report in PDF format that will help you understand how awareness, intuition, and ancient Spiritual Laws virtually guarantee that you'll flourish in this New Age of Enlightenment.
Are you ready? Just enter your name and email in the form above to receive these TWO free gifts from me!
To Transforming Your Life Now,
Esperanza
P.S. When you sign-up for your free gifts, you will also receive a complimentary subscription to the S.O.U.L. Institute monthly Newsletter, "Soul Connection" (valued at $197.) Although you may unsubscribe at any time, I hope that you choose to take full advantage of features such as a "Message from the Masters", a "Note from Esperanza" and a "What's Going On?" Section, where we will take real-life situations and show you step-by-step how to apply Spiritual Principles in powerful and practical ways. I think you will find it a very dynamic guide on your Spiritual Journey!
~~~~~~~~~~~~~~~~~~~~~~~~~~~~~~~~~~~~~~~~~~~~~~~~~~~~~~~~~~~~~~~~~~~~~
"If you've been looking for a real-life Spiritual Teacher to guide you in transforming your life, look no further! Not only has Esperanza lived an incredibly inspiring life, she is someone who really has "been there, done that" and lives the life of her dreams by following what she teaches every single day. Since applying the Spiritual Tools she shares, my relationship with my daughters, friends, family, and especially with Myself, has drastically changed in ways I never imagined possible! Thank you, Esperanza, for sharing so freely and generously. You and your work are truly amazing!"
Dynah Joy, M.D.